Even though making a Digital Marketing Proposal is tedious and doesn't always guarantee success, it is still the most important part of what a Digital Marketing Agency or a Freelancer does.
The truth is, an agency can't onboard a new client unless it shares a Digital Marketing Proposal with them and gets it approved.
What is a Digital Marketing Proposal?
A digital marketing proposal is a document (PDF or PPT) that highlights the agency's understanding of the client's pain points, the expertise of the agency to solve those pain points, the scope of work, and associated costs to manage the digital marketing project.
A digital marketing proposal can be required at various stages of a client's journey with an agency:
At the pitch stage (before a client is won)
At the sales stage (even before the pitch)
At the agency contract-renewal stage (annually in most cases)
When I was beginning my career and started working at an agency, each proposal would require work from scratch. It was time-consuming and wasn't very efficient.
Today, there are an ample number of resources – tools and templates – that make a digital marketing agency's life a lot easy.
So let's answer the first question – what should be included in a Digital Marketing Proposal?
What to include in a Digital Marketing Proposal Template
There are some critical elements that must be included in a Digital Marketing Proposal. Let's understand each of them:
A cover page
Understanding of the brief and findings after the initial meeting/call with the client
Highlight the Digital Marketing Goals that the client has
The plan/strategy of how your agency will help the client achieve their goals
How will you measure the success – list the KPIs & Metrics
Why are you the right partner for this project
Testimonials or Case Studies of similar work done before
Terms & Conditions for a project like this
Want to learn Digital Marketing in the most Practical way ever? Check out our 10-Week Advanced Digital Marketing Course that has transformed the careers of hundreds of other learners. Click here to know more!
A Cover Page
The cover page is the starting point of your proposal and it goes without saying that it needs to make a good impression.
A lot of people make the mistake of including a generic cover page. But what you should ideally do is create a custom cover page and add the logo of the client.
It would also be great if you can include the brand's color scheme on the cover page (and the rest of the proposal).
Customizing the cover page shows that you have put in a lot of effort for this brand specifically and are already invested in it.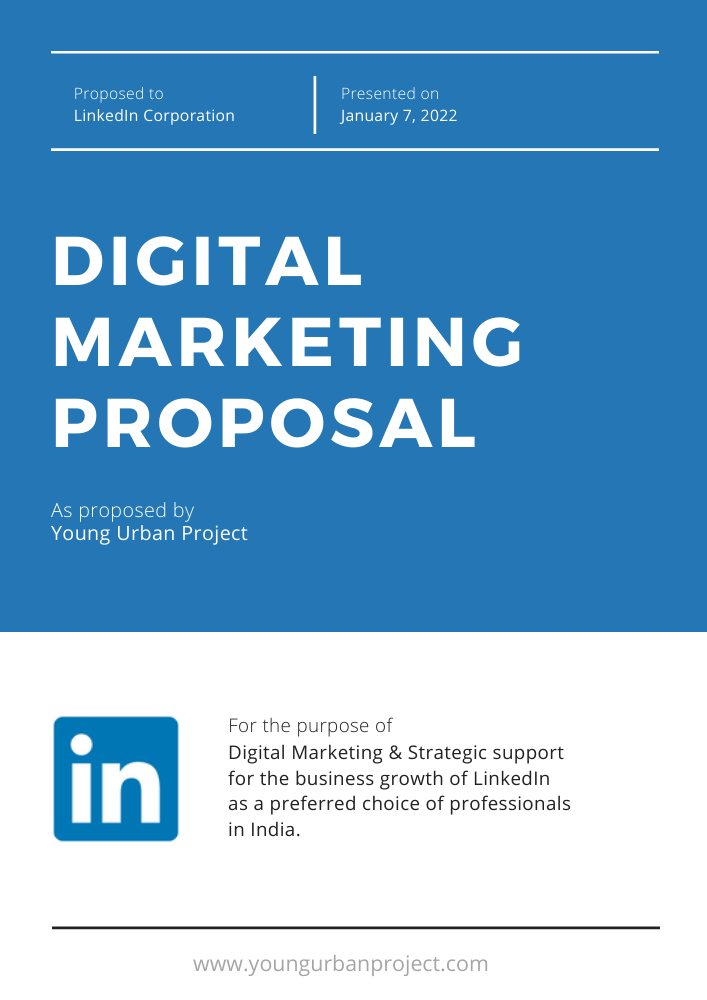 Brief Understanding
This is the section where you demonstrate your understanding of the project at hand based on your previous conversations with the client.
If you have done some groundwork or research at this point, talk about it and show how you are equipped to solve these pain points for the client.
Use this section (sometimes also called Executive Summary) to increase the client's confidence in your agency and show them why you are the best people for this project.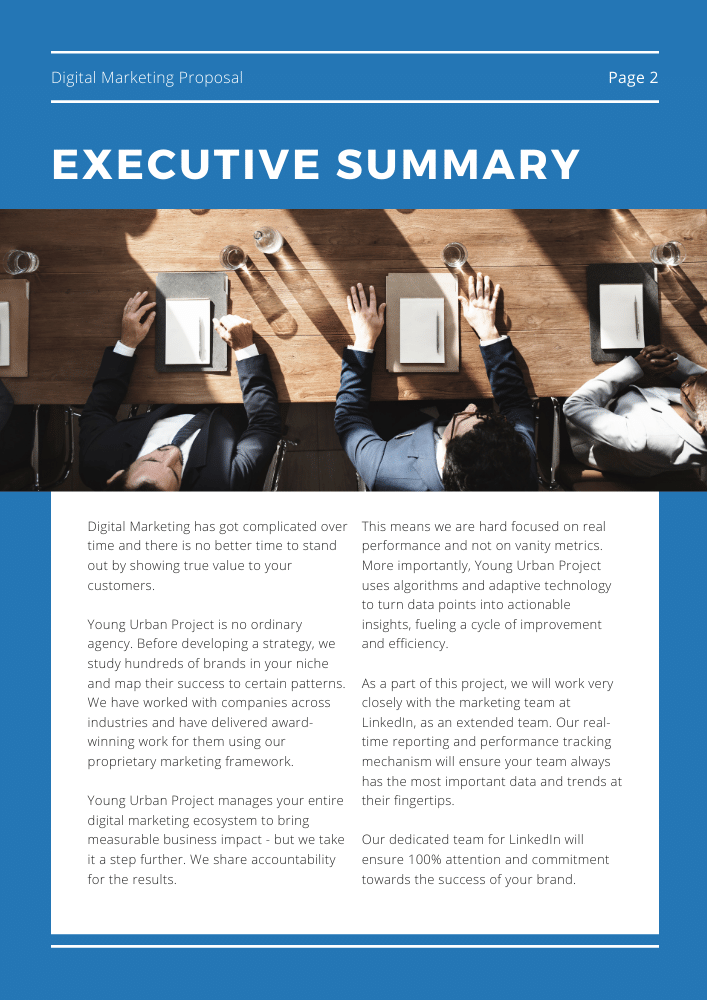 Highlight the client's digital marketing goals
Not every time will a client specify their goals or challenges in a clear language. It's not their fault. Sometimes they are themselves not able to pinpoint them exactly.
As an expert, it is your job to decode the goals and challenges and put them in this section in clear language.
This is very important and will require you to listen to the client patiently. You might also need to ask more questions in order to dig deeper.
Once you have clarity on the client's expectations, you can add them to this section.
This section in the digital marketing proposal should include digital marketing goals, business challenges being faced, and the timeline that has been discussed.
The idea is to show the client that you truly understand their business and the brief. If there is something that needs to be changed in this section, the client would let you know and you can edit it.
As stated earlier, it is imperative you ask pertinent questions to the client before writing down this section. Below are some questions you can ask before creating a digital marketing proposal.
What is the outcome you expect out of your digitial marketing efforts?
Is there a revenue goal from digital marketing in this year?
What are the KPIs that your management looks at when it comes to digital marketing?
What was your revenue goal from digital marketing in the last time period, and what percentage of it was achieved?
What is the budget assigned for digital marketing in this year (or quarter)?
What have been previous challenges that have prevented you from achieving past goals?
Are their any digital marketing channels that have worked well for you in the past?
The questions are indicative and you can add/remove them as per each digital marketing proposal template.
The plan/strategy of how your agency will help the client achieve their goals
In this section of the digital marketing proposal, you need to list down the actual deliverables for the digital marketing project.
While your pitch or strategy deck will contain detailed ideas, this is more of an overview of the approach you are taking for this project.
You can divide the project into phases and then list down activities with the time required for each of them.
If your digital marketing agency is getting into a retainer-based agreement where you will be delivering services on a monthly basis, you can mention the one-time tasks you will be executing, and then list the monthly recurring tasks you will be undertaking.
You can also add a Gantt chart here if you want to.
Success Measurement – KPIS & Metrics
The success of an agency or a freelancer will be measured if there is a measurable business impact coming through the digital marketing efforts being put in.
And to do that, there is a need to define specific metrics and benchmarks that will help you and the client evaluate the performance of digital marketing.
These metrics and the benchmarks can be decided after a mutual agreement between the agency and the client.
Remember, there should be no surprises in the digital marketing proposal. Everything added should be in agreement with the client.
Let's take "Social media services" as an example and put some KPIs with benchmarks here:
| | | |
| --- | --- | --- |
| Metric | Last 30 Days | Benchmark |
| Follower growth | 100 | 150 |
| Organic Reach | 2% | 5% |
| Social Media Traffic | 570 | 1200 |
| Social Media Leads | 6 | 20 |
| | | |
Build Trust and convince the Client that you are the right partner
Now that you have given the most important details and have demonstrated your project understanding, it is time to build trust in front of the prospective client.
You can name this section "About Us" and talk about the company's vision, mission, and values.
More than using this to show a collage of the awards you have won, use this opportunity to show how committed you are to your clients and how you will be a partner in the long run.
Write what a client values in their agency here.
Testimonial and Case Studies
This section in your Digital Marketing Proposal is for social proof.
Include crisp testimonials from your past clients (if possible, try including the ones from a similar niche that your prospective client operates in).
This will add a lot of trust in your client.
But what if you could also demonstrate the actual results you have generated right here?
That's where case studies help.
You can share some learnings and results from your past projects (again, better if they are from similar industries as your prospective client).
Make the case studies crisp with 4 sections – Problem, Strategy, Execution, and Results.
Terms & Conditions for Digital Marketing Proposal
In the last section of your Digital Marketing Proposal, you need to include the conditions and specifics of working with your agency or you as a freelancer.
This is also where you write the legal language that will cover you from any unforeseen complications in the project. It is better to consult a corporate lawyer to get a template made once and then keep it handy for future projects.
This section should include the following elements (indicative list):
Billing terms (what percentage would be advance and what happens in case of delays)
Cancellation or Exit terms
Intellectual Property ownership or transfer
Non-compete clause
Non-poaching clause
Data confidentiality
Project duration
While all these clauses will be included in the final Service Agreement (contract) too, it makes sense to write the most critical pointers in the Digital Marketing Proposal too so there are no surprises for the client or you.
Some FAQs related to Digital Marketing Proposal
What should be the file format of a Digital Marketing Proposal?
A Digital Marketing proposal should be submitted in a PDF form
What tools can be used to make a Digital Marketing Proposal?
You can use MS Word, Google Docs, or Canva to make a digital marketing proposal. Canva has a lot of pre-made templates for making a proposal.
How many pages should a Digital Marketing Proposal have?
A digital marketing proposal should be crisp and should have between 10-15 pages (A4 size) at max. It should only contain the most relevant information for the project. It is not supposed to duplicate everything that is already on your website.