Most people who want to learn digital marketing struggle with where to start. And rightly so.
There is so much information on the internet that it can get overwhelming. There is no dearth of articles and Youtube videos of Digital Marketers explaining how to get started – and also subtly promoting their own digital marketing courses, products or services.
And in the ocean of information on this topic, I am adding another blog post. However, I will try to be honest with the information I share to help you make the right decision.
My Digital Marketing Story And Personal Experience in The Field
After completing my MBA, I joined a large e-commerce company as a category manager where I got exposed to digital marketing. My workstation was next to a guy who used to manage Social Media for this company.
I was really fascinated with the kind of work he would do. It was a mix of creativity and data analysis – something I loved doing anyway.
In a short while, I got an opportunity from a startup that had a hybrid business model of SAAS product development and a Digital Marketing Agency. While it was a young company, I decided to join that and got my first taste of working with companies as my clients.
I started learning Digital Marketing on the job and was lucky to have a great mentor who was an advertising industry veteran.
Over the years, I moved to other agencies and made a name for myself in the agency space. I got a chance to work with some of the greatest in the industry and did some ground-breaking work – learning more and more each day.
I moved from an operational role to a strategy role very quickly because I was always inclined towards looking at the bigger picture and how marketing could bring a measurable business impact.
I finally went back to a corporate role (after my first job) and joined a Fintech company owned by one of the most successful entrepreneurs in the country. As the Digital & Branding Lead, I again had the chance the work with the smartest folks out there and got a lot of understanding of customer behavior and user journeys.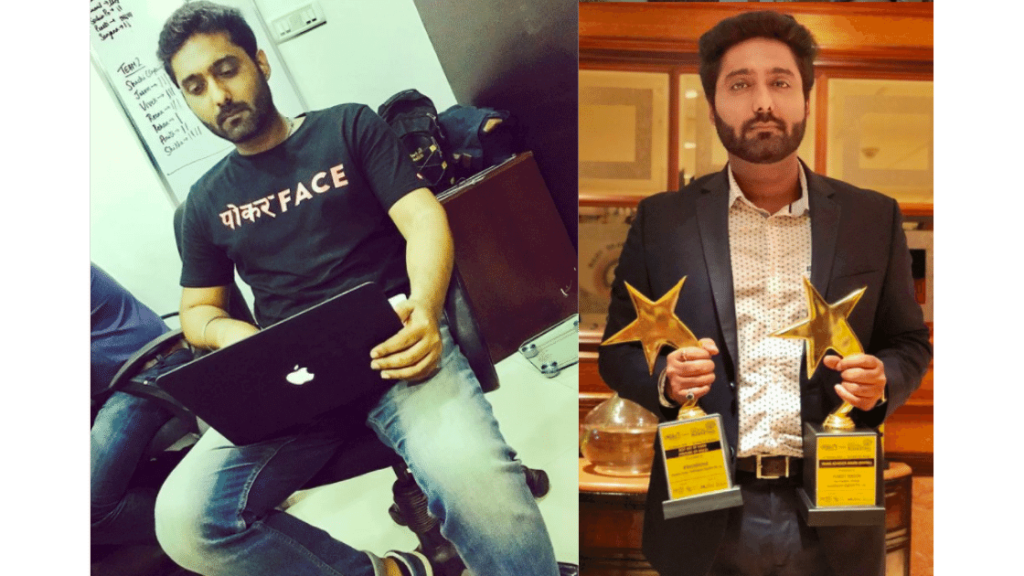 Most of this time, I was also working on side-projects, learning more skills and implementing them on my side-projects. I was also consulting a lot of agencies and brands.
And I had started teaching in business schools & corporates as a visiting faculty. This allowed me to work extra hard to learn more and keep myself updated.
Young Urban Project started as my side hustle and I started enjoying a lot more than my day job. It was also getting good traction and my initial test products started selling. I decided to quit my job to focus more on building Young Urban Project as the finest Edtech for digital marketing learning.
My knowledge of Digital Marketing, and my experience, made it possible for me to not only be a top performer during my corporate life but also helped me start a business where I could bring actual results even though I was starting from scratch.
That is something I will always be thankful for. If I didn't have a deep understanding of digital marketing, it wouldn't have been possible for me to do this well as easily.
So did I do a course to learn digital marketing?
The honest answer is – No, I didn't. I had never done a course. I learned on the job, and through my own practical implementation.
So anyone can learn without Digital Marketing courses?
Technically, yes. If you have the will and the discipline, you can self-learn it by just watching Youtube videos or even through free courses from Google Unlocked or Hubspot.
If I had the chance to go back in time, would I choose to self-learn it again or would I choose to learn through a course?
Honestly, I would choose a good course and invest in it.
The reason is, it took me years of trial and error to understand things at a really deep level and while I was patient with the process, it kept me held up from moving faster than that.
I feel a lot of that process can be expedited through a structured learning course and it might completely alter the growth trajectory of anyone.
In my case, I was lucky to be surrounded by really smart people who were very open to mentor me on my job. And I am aware this is not something everyone might have an access to.
If you have the time, patience and discipline to learn it yourself – you must do it.
But if you want to put your career on a fast-track, investing in a good Digital Marketing Course like our Advanced Digital Marketing Course might help you achieve just that.
One course can make a big difference in how quickly you can learn digital marketing and how quickly you can find a job with your new skills. It isn't about remembering facts or knowing tactics.
It is about learning the logic of marketing to craft winning campaigns and user journeys.
Starting Steps: How to Learn Digital Marketing for Free at Home
If you want to learn Digital Marketing through a practical digital marketing course, then you can learn more here.
But if you prefer self-learning it, here are some things you can do:
Digital Marketing books to learn from
Here are some of my recommendations to get an understanding of digial marketing, strategy, and customer behaviour.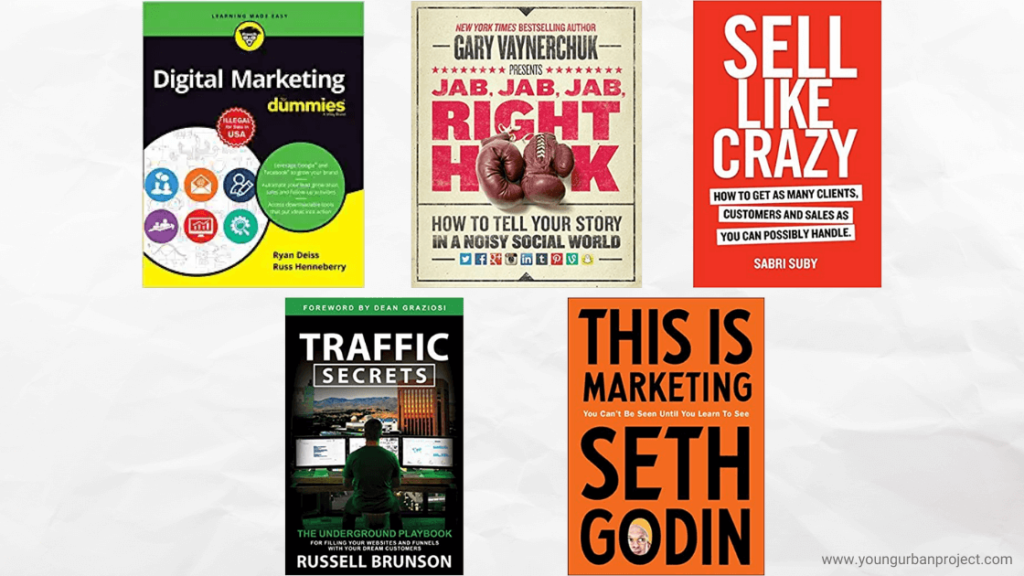 While the books will give you an insight into the world of digital marketing, don't expect to become an expert just by reading. Digital Marketing requires implementations and experimentation. That's the only way to get mastery in it.
Free Digital Marketing Courses Online that you can do
There are a lot of videos on Youtube that can get you started, but it is always better to learn from structured resources so that it is not easy to get distracted, or to get lost.
Here's a list of some prominent Digital Marketing Courses that let you learn for free: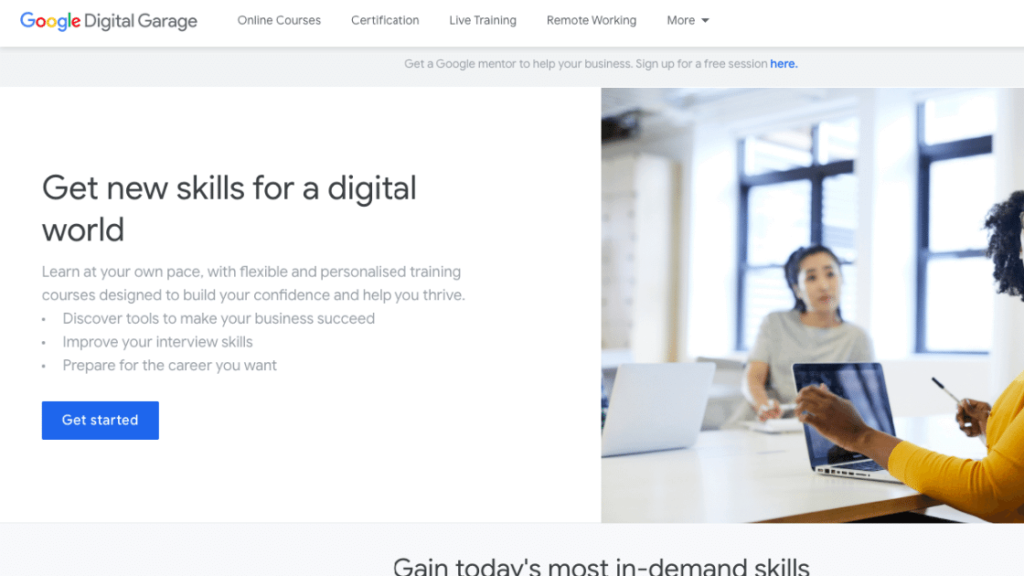 A headsup, all these courses are great starting points. They help you get an understanding of the industry, but will not give you a practical experience. It is up to you to implement these learnings in real life.
Marketing Podcasts you can listen to
There are a lot of really valuable podcasts that will give you snackable insights on a daily basis.
Below are some podcasts that you can start listening too:
Learn on the job, like how I did it
If you can get a job or even an internship in a Digital Marketing agency or a startup, that could be the best way to learn on the job in a real industry environment.
But remember, you might have to work in the trenches before you can get positions of importance. Most entry-level jobs will require you to work really hard, but as long as you are learning well, it will pay disproportionately in the future.
Start applying for jobs or internships through Naukri, LinkedIn or websites like Internshaala.
Even better – you like a startup that is doing exciting work and you feel it could teach you a lot? Slide into their DMs. Show them your passion and commitment (without being cocky).
If possible, do something for them to showcase what you can do and impress them. Remember the 3D designer who created an internship application for CRED on Linkedin and got hired. He had got a response from both Kunal Shah (Founder) and Harish Sivaramakrishnan (design head) on Linkedin and got hired as an intern.
People love this. I have hired a lot of people that have approached me in a likeable way over years.
No matter what path you choose, implementing your learnings is going to be the differentiator in how quick you can achieve your goals. And I am confident that with intent, discipline, and the right guidance, you will be unstoppable.
If you want to speed up the process and would like to be mentored directly by me (Puneet Tandon), I would love to have you as a part of the next cohort of our 10-Weeks Advanced Digital Marketing Course by Young Urban Project. Click here to Learn more about it.
If you have any questions, you can send a DM on our Instagram account and I will get back to you.