Are you looking to find out what ads your competitors are running on Facebook? Are you looking to get creative or copywriting inspiration from your competitors' ads?
Then you need to use Facebook Ad Library to find out exactly what your competitors are spending on Facebook Ads… And use this information to dominate your competition by spying on them!
One of the most critical elements to get success on Facebook Ads is to discover the winning creative and copy.
But let's be honest, it is not always that easy. There are various reasons that can slow down your quest of finding the winning copy and creative. Some of them are (do you relate with these?):
Having no idea about the niche you are running ads in
Not having a clear direction for making the creatives
Not having enough time to test creatives & copy
Not being great with designing creatives
Not being skilled at copywriting
No matter the reason, you still have to be completely focused on your Ad copy and Ad Creatives in order for your campaign to succeed.
And in this article, you will learn how to use Facebook's best-kept secret – Facebook Ad Library – to step up your Facebook Ads game.
The first question is…
What is Facebook Ad Library
Facebook Ad Library is a repository that Facebook has created to bring transparency to advertising. In this library, you can search for ads that are running in any part of the world.
The thing to be noted is that this library only shows the CURRENTLY ACTIVE ADS, and not all historical ads.
Can you also see Ads about issues, elections or politics in Facebook Ad Library?
Yes, in fact, you can also see the inactive ads in these special categories in Facebook Ad Library. You can also see additional information about ads in this category such as who funded the ad, a range of how much they spent, and the reach of the ad across multiple demographics. Facebook stores these ads in the library for 7 years.
To know more about this, check Facebook's Help Center.
How to access Facebook Ad Library to find your competitors' ads?
There are a couple of ways of using the Ad Library. Let's take a look:
Method 1: Check a competitor's Facebook Ads through their page:
Go to the competitor's Facebook page and scroll down. You will see a pane on left titled "Page Transparency"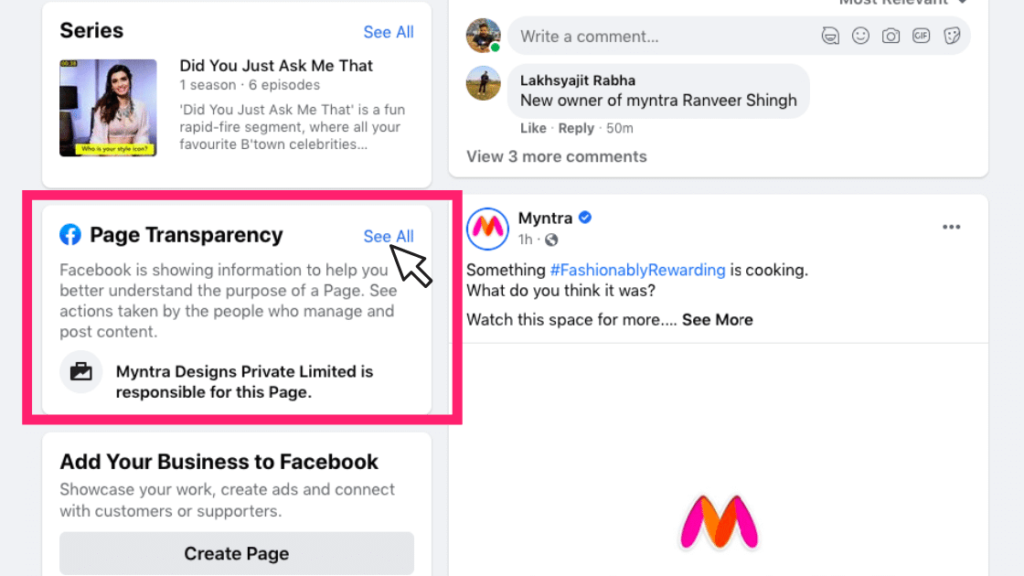 A lightbox will open up. Scroll down and click on the button that says "Go to Ad Library"/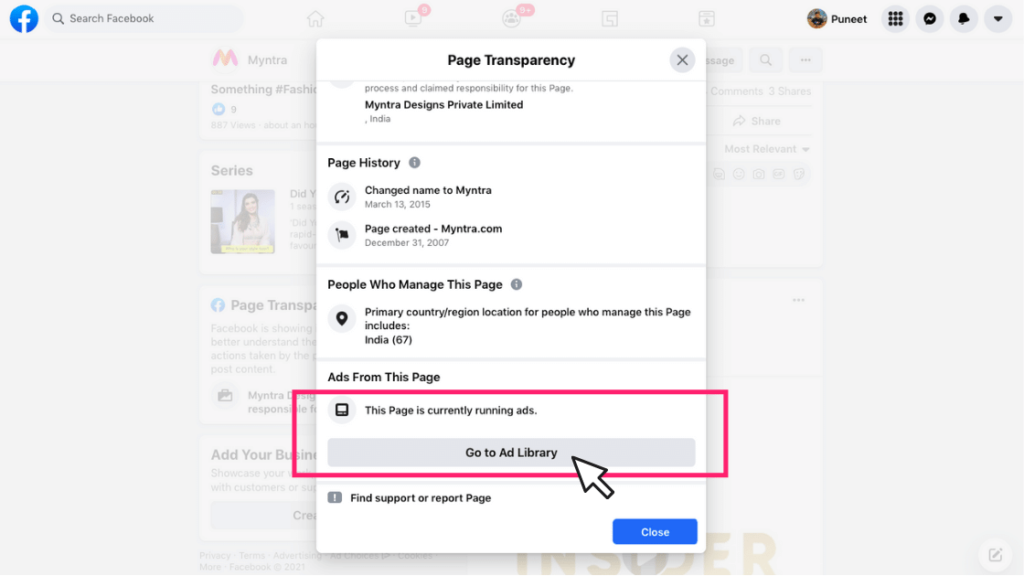 The Facebook Ad Library will open up that will show you all the currently active ads being run by this brand.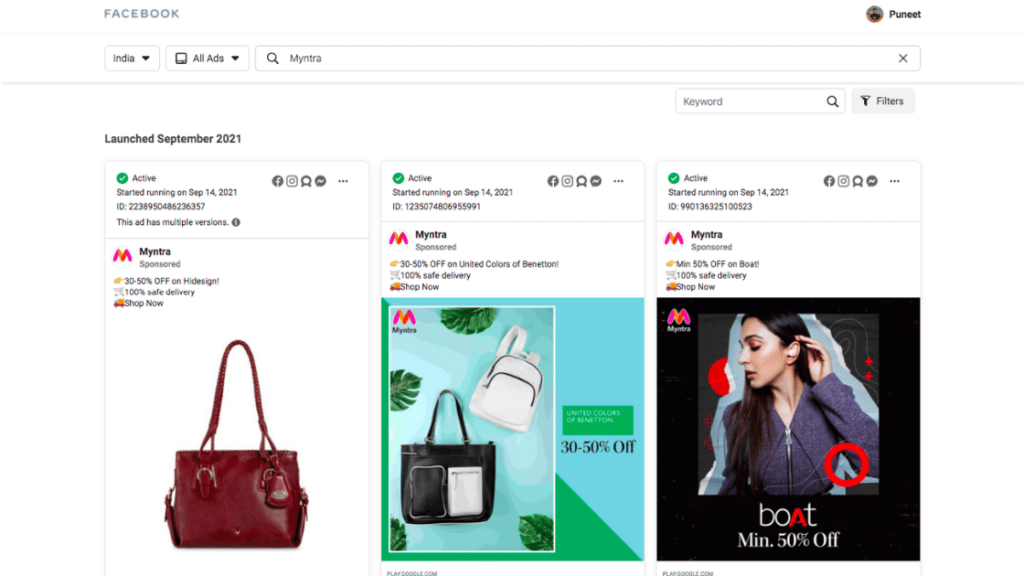 Method 2: Access Facebook Ad Library to search for any brand's or ads
Visit this link to go to the Ad Library: https://www.facebook.com/ads/library/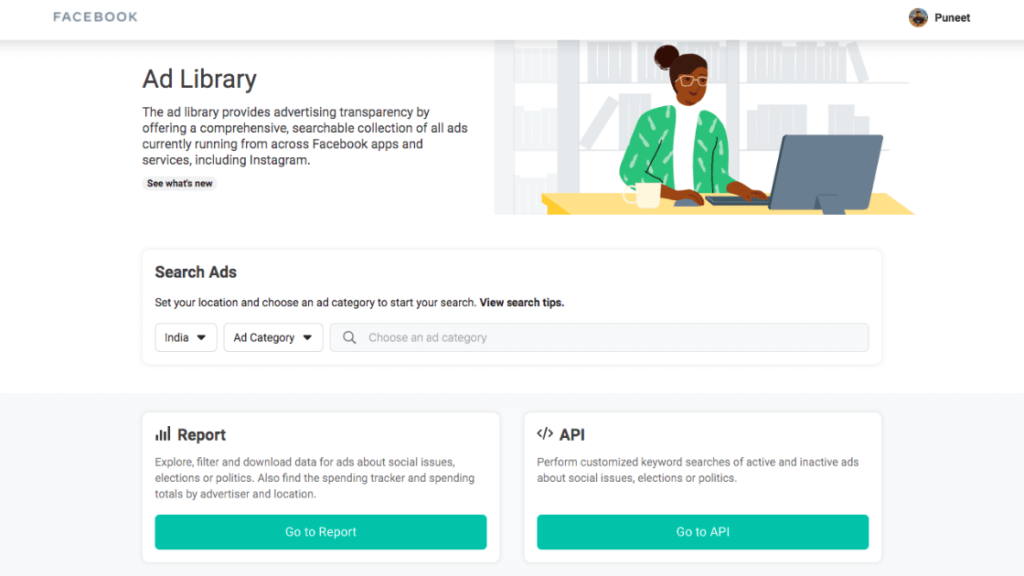 How to analyze competitor ads using Facebook Ad Library?
One of the biggest reasons to use this gem of a tool by Facebook is to analyze the ads that are working for the competition and what ads are not working.
These insights, if used well, can save a lot of optimization time and wastage of money.
Step 1: Choose the location you want to search ads in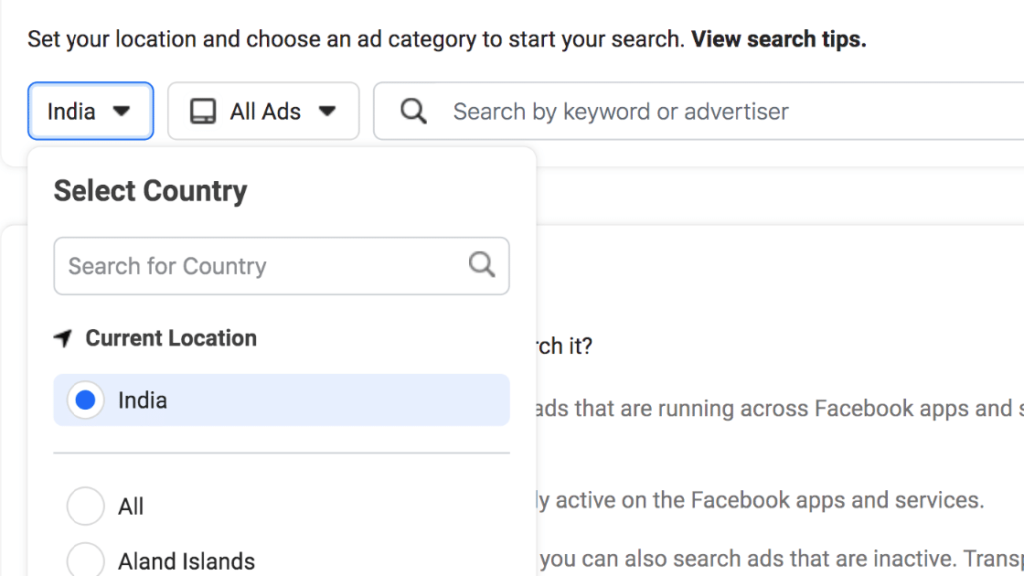 Step 2: Choose Ad Category
Choose Ad Category as "All Ads" to search all types of ads. But if you only want to find ads in special categories, you can select the second option.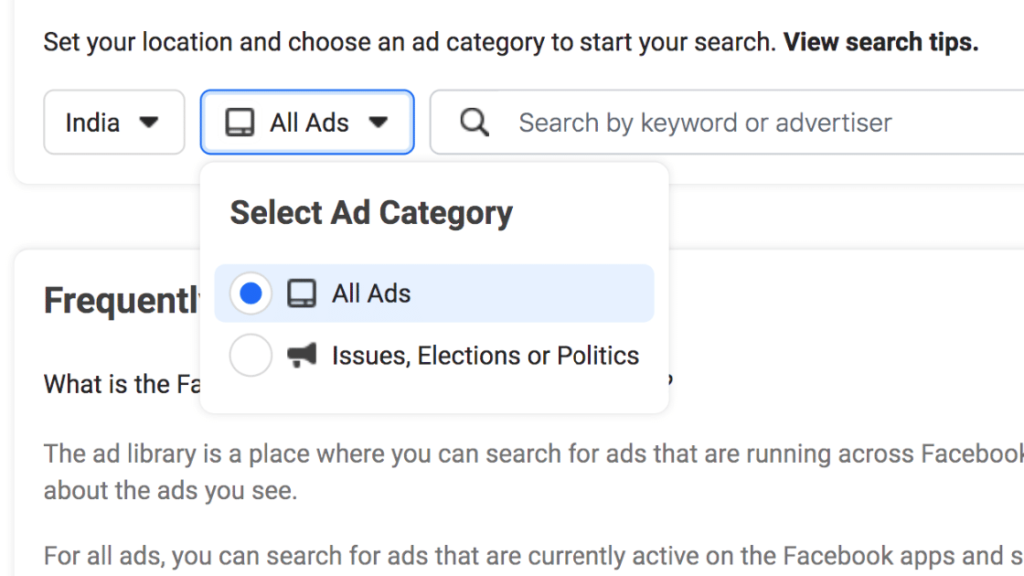 Step 3: Search for Keyword or Advertiser
You can search for the keyword or the name of a competitor that you want to see the ads for.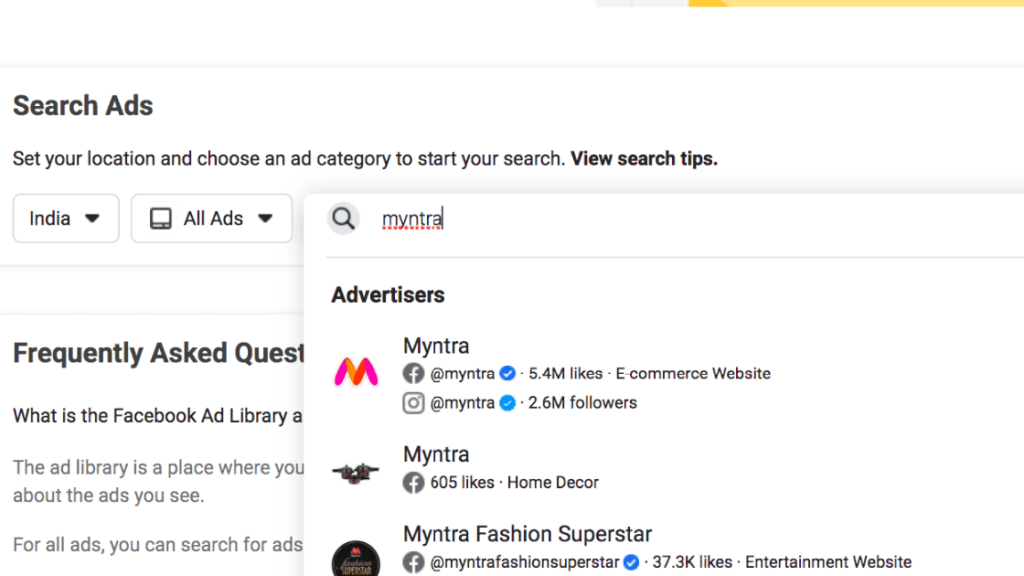 Step 4: Check the Active Ads
You can not just see the active ads in chronological order, but you can also see what platforms are they running on (Facebook app, Instagram, Messenger etc.)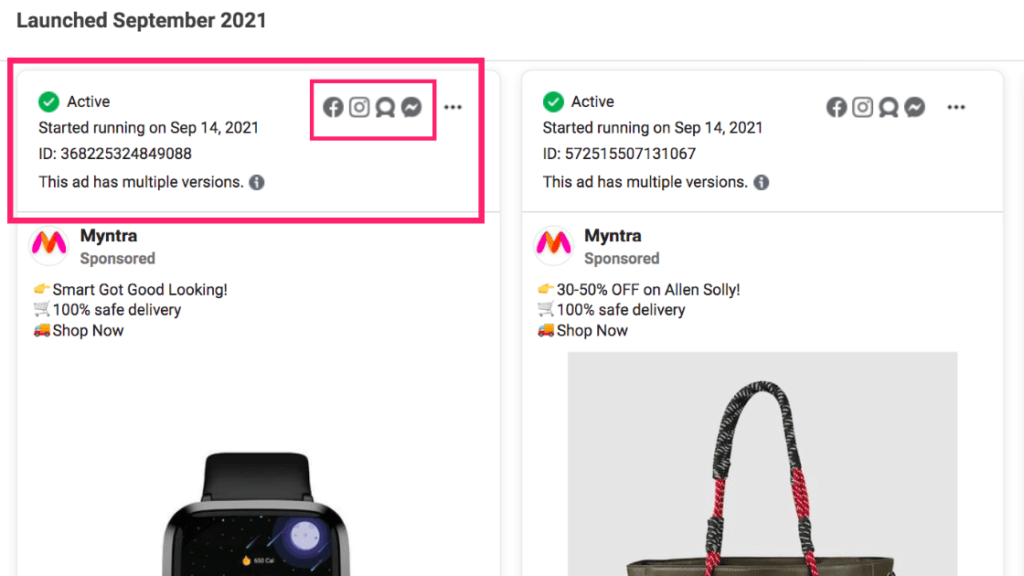 Step 5: Filter by Language
Click on the 'Filter' button on top-right to open a new lightbox (popup).
You can select if you want to see ads in all languages or if you want to see ads that are in English.
Step 6: Filter by Platform
You can see the ads that are active on all platforms or a certain platform. This will give you a good idea of how the creatives are being adapted for different platforms.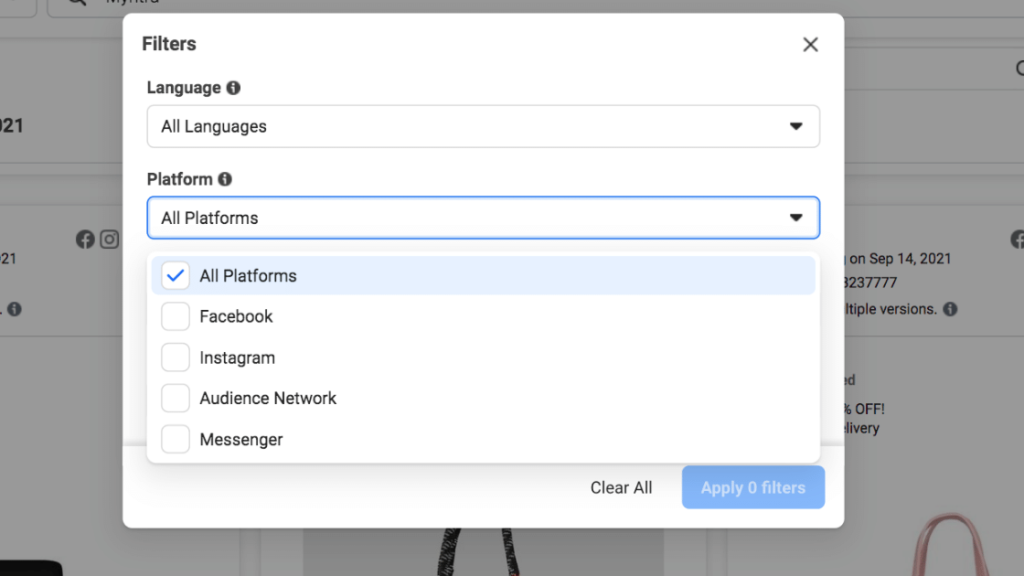 Step 7: Filter by Media Type
What type of ads are working? Images? Videos? or MEMES!
Yes, Facebook Ad Library allows you to filter ads depending on the media type.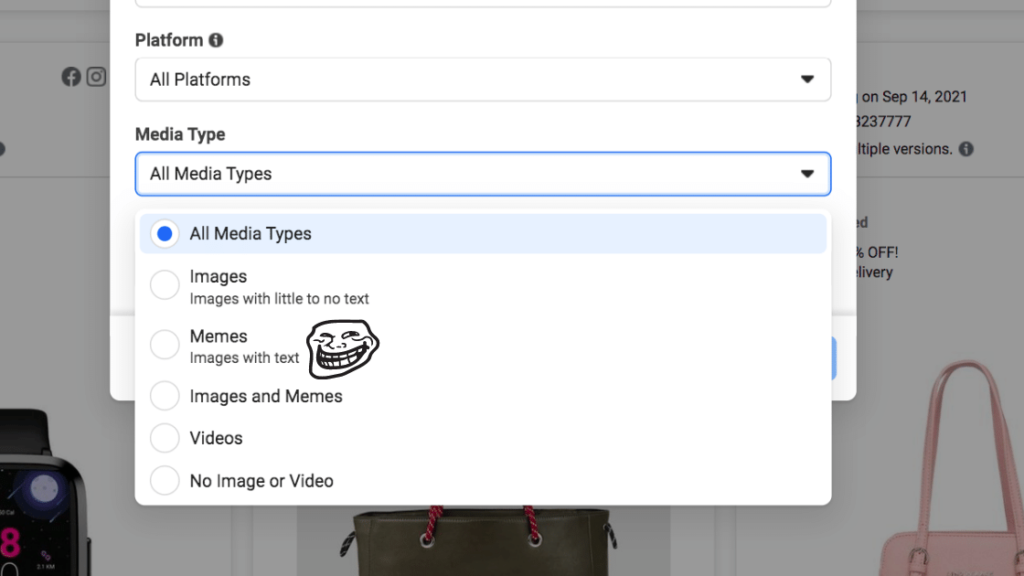 Step 8: Filter by Impressions by Date
You can select a date or a date range and see the ads that got most impressions in that. This can be an indication of the best performing ads for any brand.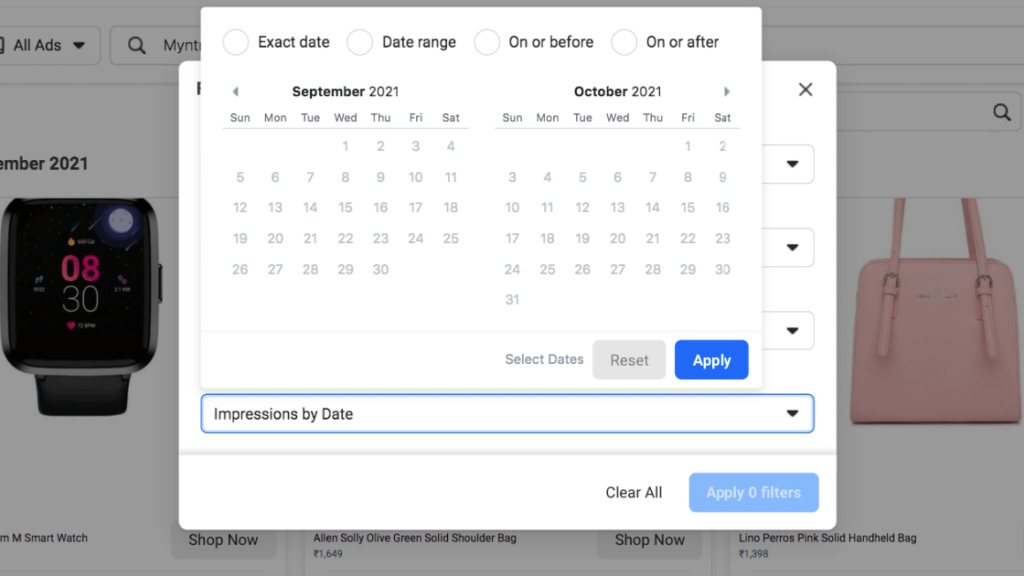 Step 9: Evaluate Ad Creatives
The idea of examining the Ad creatives is to identify copy and creative patterns that are working well so that they can be replicated. You can see everything from design, to colours, to CTAs, to headlines, to primary text.
This is the ultimate shortcut to finding winning ads and using them to shorten the learning curve.
If you haven't tried it, you must spend time researching on Facebook Ad Library and it will give you recurring returns over time.
Want to learn Facebook Ads in Detail? Enroll in our Advanced Facebook & Instagram Ads Course Now and never waste a single dollar on low performing ads. [COMING SOON]
FAQs about Facebook Ad Library
Here are some questions that you might have regarding Facebook Ad Library:
Do you need a Facebook Account to use Facebook Ad Library?
No, you don't need a Facebook Account to use the Ad Library. However, if you want to report any ad or view adult content, you will need a Facebook account.
What type of Ads can you search in Facebook Ad Library?
You can search for ads active on any of the Facebook apps and services including Instagram, Messenger, Audience network, etc irrespective of whether you have seen them or not.
How long does it take for an ad to show up in Facebook Ad Library
It can take up to 24 hours from the time the ad receives its first impression. If there are any changes made to the ads, they will also show up in 24 hours.
How does Facebook decide which ads to serve to users?
Facebook's objective is to show ads that are relevant to each user. That is how they drive profitable actions and make money.
The ads each user sees is dependent on the following:
– User activity (what page they liked or what ads they clicked on)
– User's information like age, gender, location, devices used to access Facebook apps.
– Information shared by advertisers (custom audiences) like email address or phone number.
– User activity on third-party websites through pixel data and conversion api.