Your Instagram Bio is the first thing people see on your profile even before they reach the grid (On which people generally give so much thought, creativity and effort).
Having a really good Instagram Bio can help you gain more likes and followers. It can captivate the attention of people who happen to visit your IG profile – through your viral posts or through hashtags.
And your bio can make people realize the value you can bring to them on a daily basis through your content.
However, having a poorly written bio can also do the opposite. It can tick people off, and it can make people go away without ever pressing the "Follow" button. That's a missed opportunity.
Not giving enough attention to crafting a bio for your Instagram account is leaving money on the table.
When it comes to writing a bio, you don't want to be too wordy, nor do you want to be too short and not include enough information. After all, you want your bio to be a perfect balance.
But there is more to writing the ideal Instagram bio that will help you get more followers, and eventually more business.
Let's look at the below 7 tips:
Tip # 1 : Optimize Your Name for Search Queries:
Instagram considers the name and username fields in search queries.  It completely makes sense to optimize them by mentioning your niche there.
This will especially help when people are looking for something specific.
We all know that nowadays a lot of small and mid-sized businesses are using Instagram for boosting their business.
Be it Home chefs, Bakers, architects, interior designers, fashion designers, the list is endless.
You could use keywords that you know your potential audience might be searching for.
This could include some things like:
Do you offer a specific service?
Are you known for something in particular?
Let's look at an example below from Vindhya (@vinsplate) – an influencer who posts vegetarian and vegan recipes.
Her Instagram Username is – @vinsplate.
But her Instagram name is – Vindhya | Veg & Vegan Recipes.
She has clearly mentioned her niche in the name.
This gives a clear message to anyone visiting her profile on what to expect.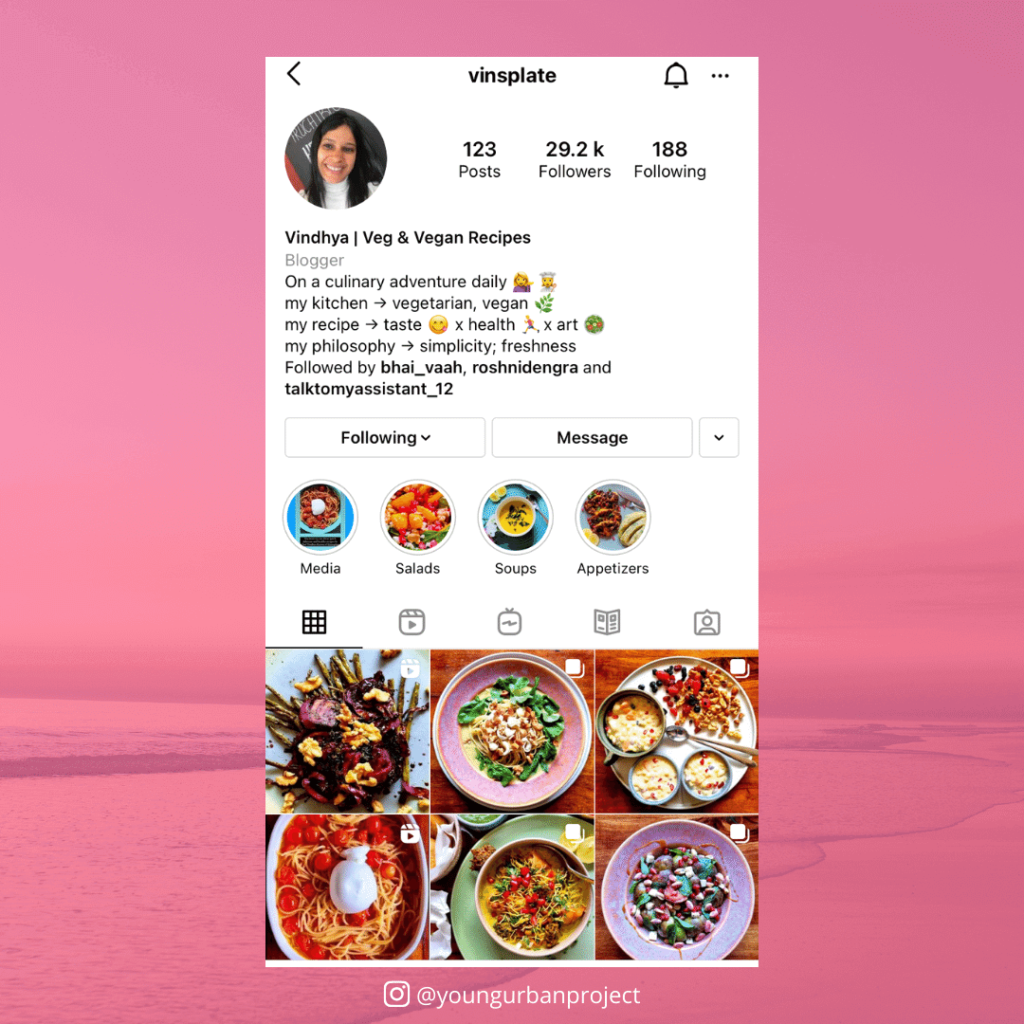 The easiest yet important thing you can do is optimize your Name Field with your name and your profession/business.
While this is not mandatory, this can help someone who is new in the niche to get discovered organically.
Tip # 2 : Remember to set the right Category for your Instagram account
When people search for a specific business it will work in your favor if you have chosen the right category especially if you have a business or creator account.
Instagram has a whole list of categories you can choose from ranging from "Artist" to "Restaurant" to "E-Commerce website".
You can find this setting here: Go to your profile page > Click on "Edit Profile" > Category > Select Category > Click Done.
For example, take a look at Yasmin Karachiwala's (a celebrity fitness trainer) Instagram account.
She has chosen "Fitness Trainer" as the category that you can see in grey below her name.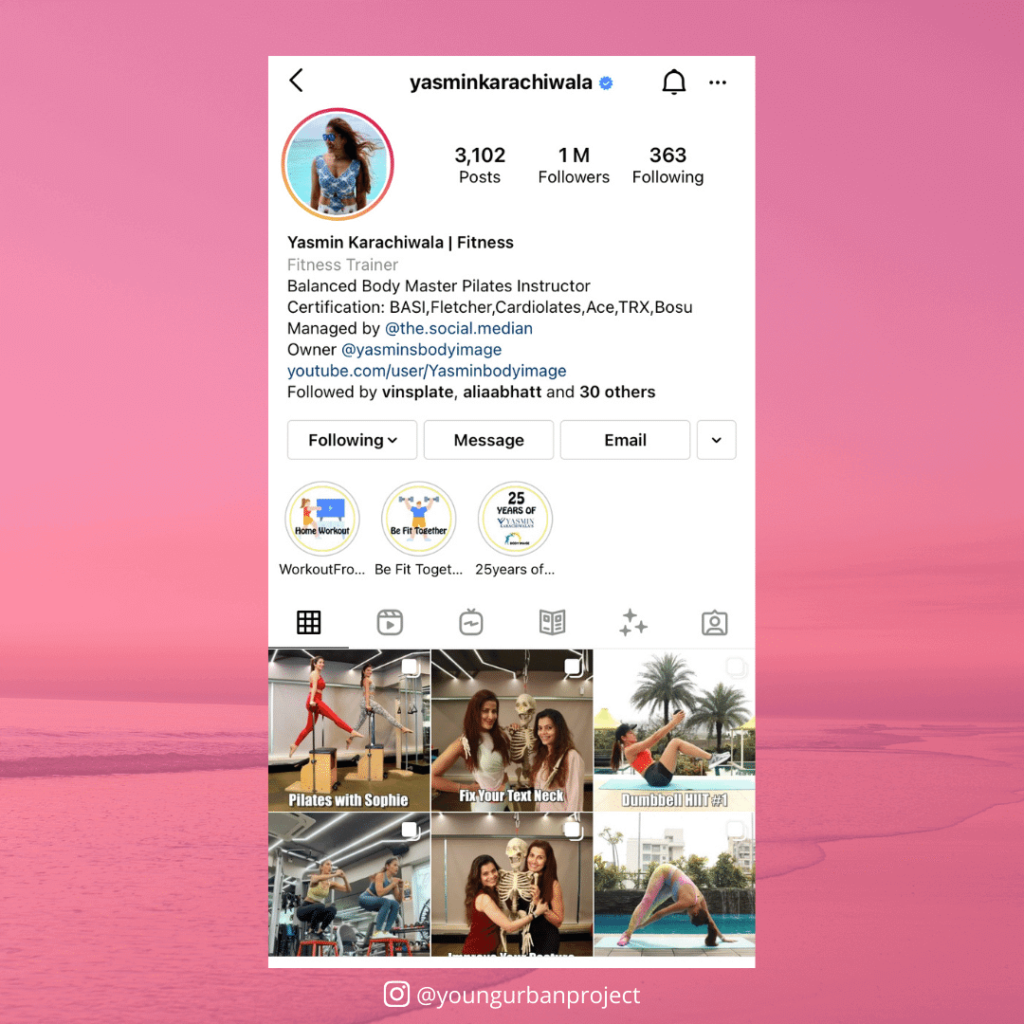 This will help people searching for fitness trainers to find her easily.
The whole idea is to provide clarity to the audience.
People don't have the time to play guess and would rather see all-important details right away.
Tip # 3 : Add a Value Statement to your Instagram Bio
A good Instagram Bio includes a value statement that highlights the uniqueness of what you are doing as a business or a creator.
It can also specify who your content is targeted towards: your target audience.
If there is something unique which sets you apart from your competitors or peers, it should be added to the Bio.
This could include any specific skill sets like or some distinctive method you are using which is different from others.
For example, designers Rimple & Harpreet Narula have added that their work is "Inspired by ancient motifs, craft & vintage textiles"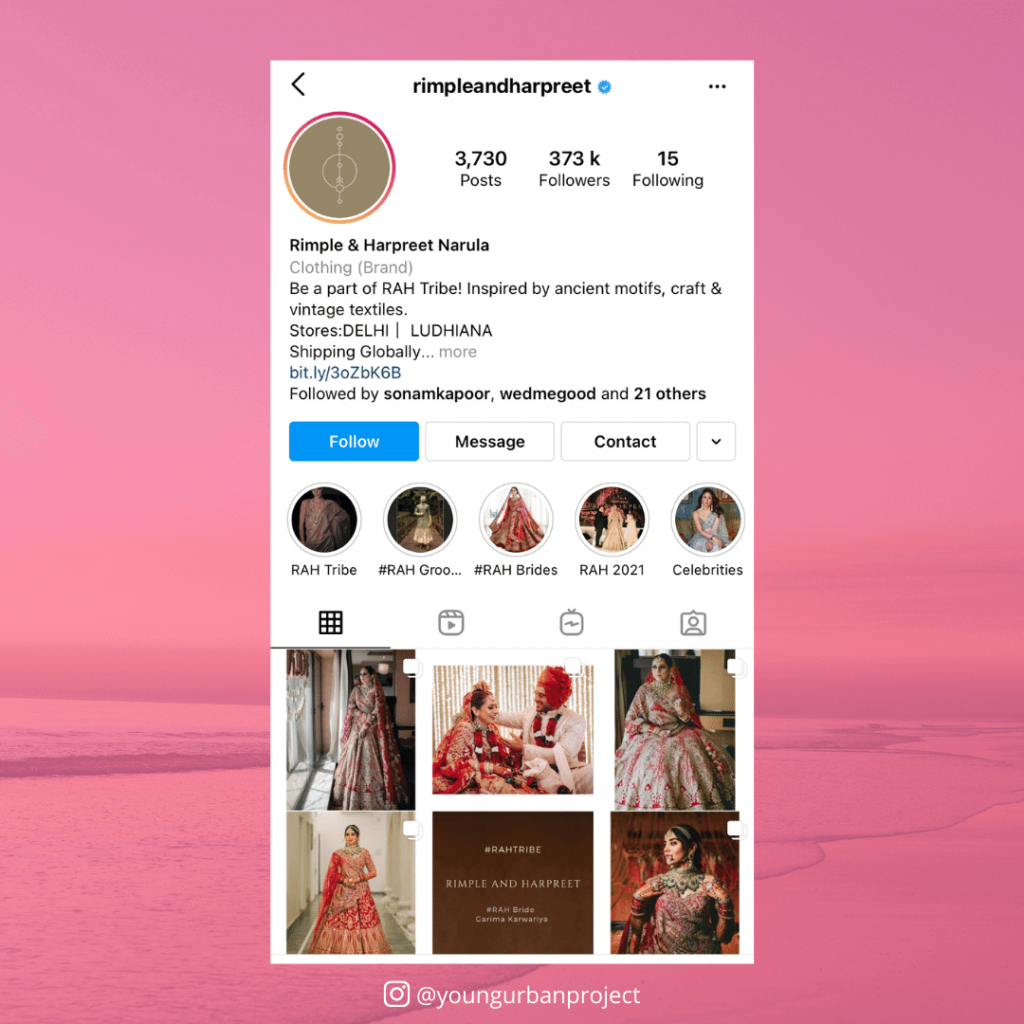 This gives any visitor a perfect idea of what to expect.
Another example is Instagram's bio on their own official account, which says – "Bringing you closer to the people and things you love ❤️ ". This makes sense considering that is what Instagram does as a platform.
Tip # 4 :  Use relevant Keywords in your Instagram Bio
While using relevant keywords in your bio won't improve the discoverability of your profile on Instagram as of now, there is hope that it will start happening soon. Instagram had recently spoken about their direction towards improving the search functionality within the app. Instagram SEO is going to be a thing soon!
But as of now, Instagram only allows usernames or the names, hashtags, and places to be searched.
But even today, adding relevant keywords to your Instagram bio can help bring more focus to your account and can help in connecting you with like-minded followers.
Also, it helps in getting your purpose across at a peek. This can certainly work to your advantage when you have a limited amount of characters to play with. 
When deciding what keywords to include in your Instagram bio, think about your core values and interests, and those of your target audience.
Then see how they overlap and accordingly decide on the most suitable ones.
For example, on Young Urban Project's Instagram account, I mention "Digital marketing" and "cohort-based Digital Marketing courses" in the bio as those are the things we do and would like to be discovered for.
Tip # 5 : Add Your Contact Information below your Instagram Bio
You can add your contact information below your Instagram bio. This includes your email address, phone number, and even your physical store/shop address.
The best part? It doesn't take up any character space in your bio because they are to be entered in separate fields!
People like to know the location of a business account they are engaging with. This instills legitimacy in a business Instagram account.
An example could be theloom.in. They have clearly included their contact details and address below the Instagram bio (address written in blue and contact info appearing in form of buttons).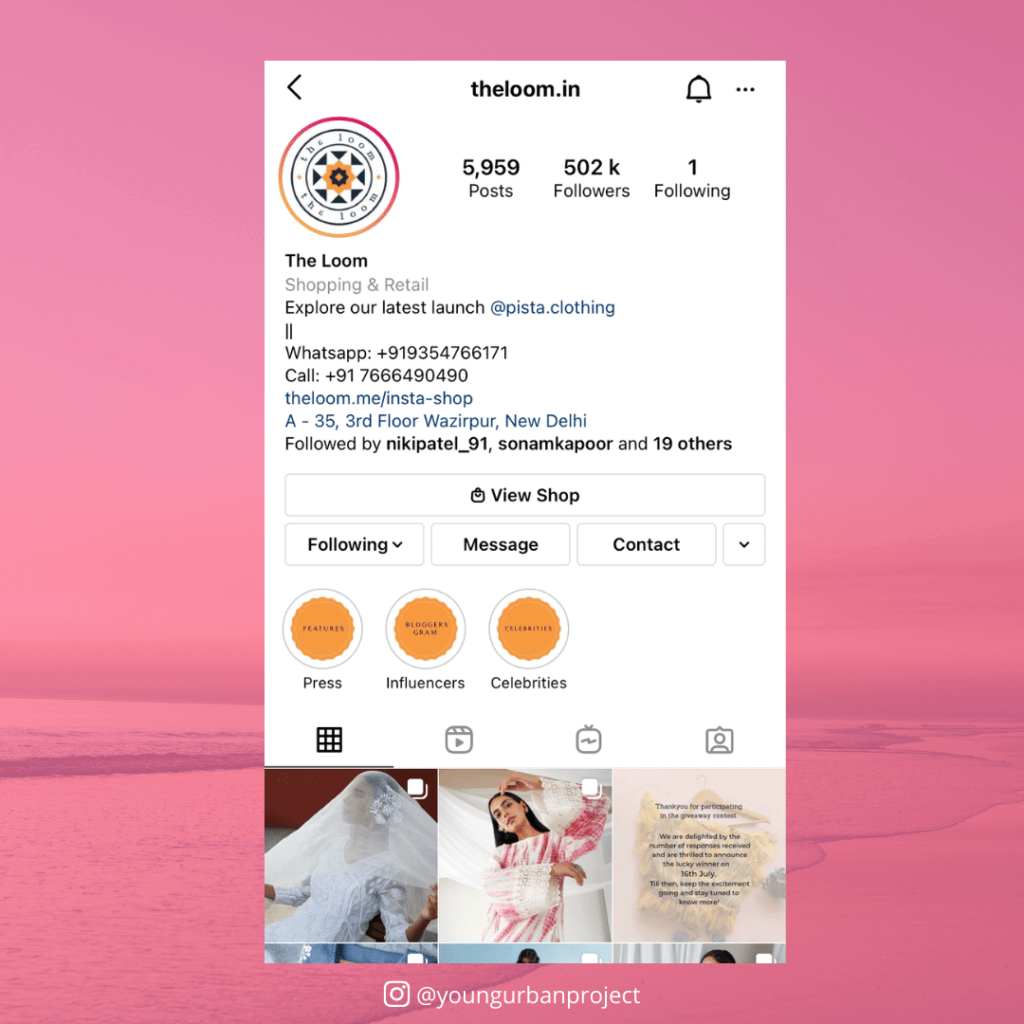 Tip # 6 : Add a Call-to-Action to the Instagram Bio
While the call-to-action buttons free up a lot of space in your bio, it doesn't hurt to get more direct with your CTA.
Make sure people know exactly what they need to do when they visit your profile by including a CTA in your bio.
This could depend on the goal of your Instagram business account.
You could invite them to visit your website, shop your feed, check out your latest blog post, download your new guide or even share their own photos using your branded hashtag.
You can even urge them to download an app like how @wedmegood has done below.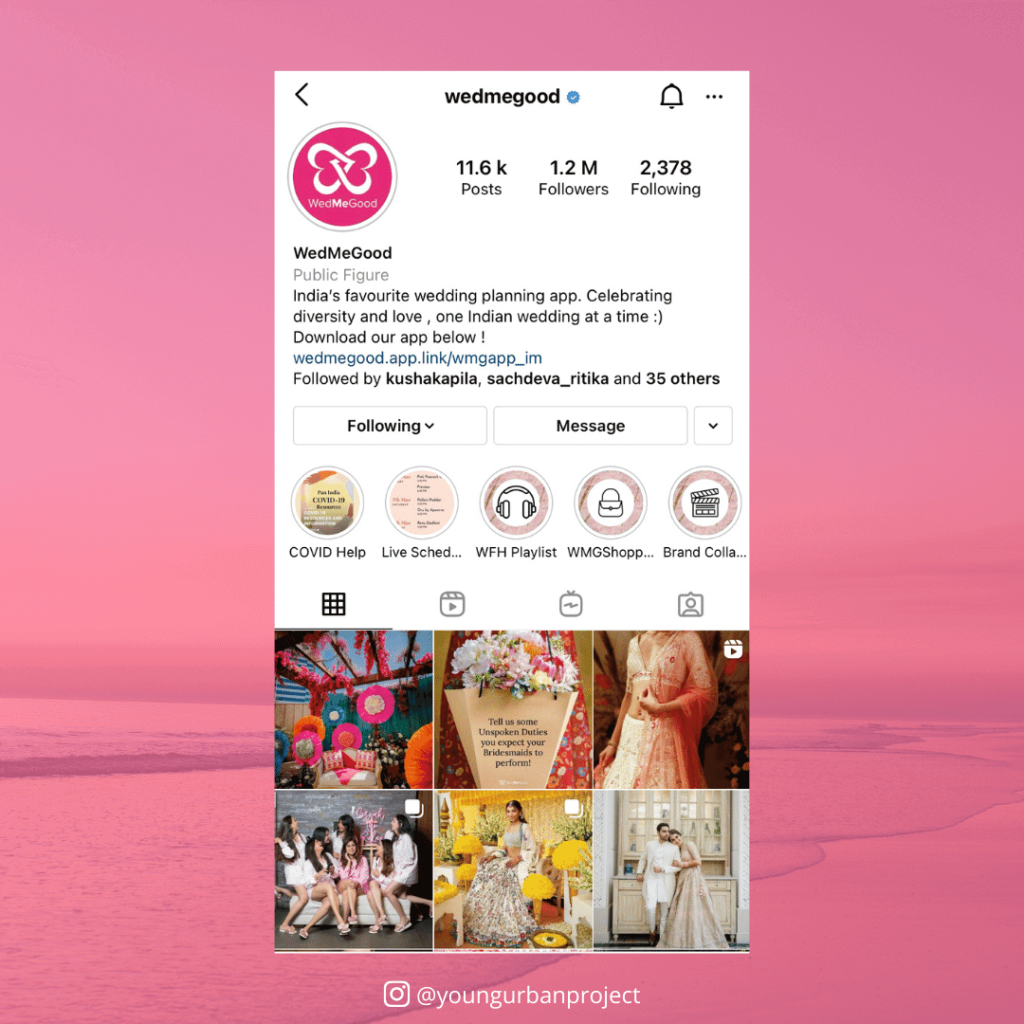 If you want to grow your Instagram following, you could even add a CTA to "follow us" for your regular content such as daily recipes, fashion updates and so on.
For example, Ahrefs uses their bio text to create a CTA that points (see they have used an emoji creatively here) to highlight their latest feature release.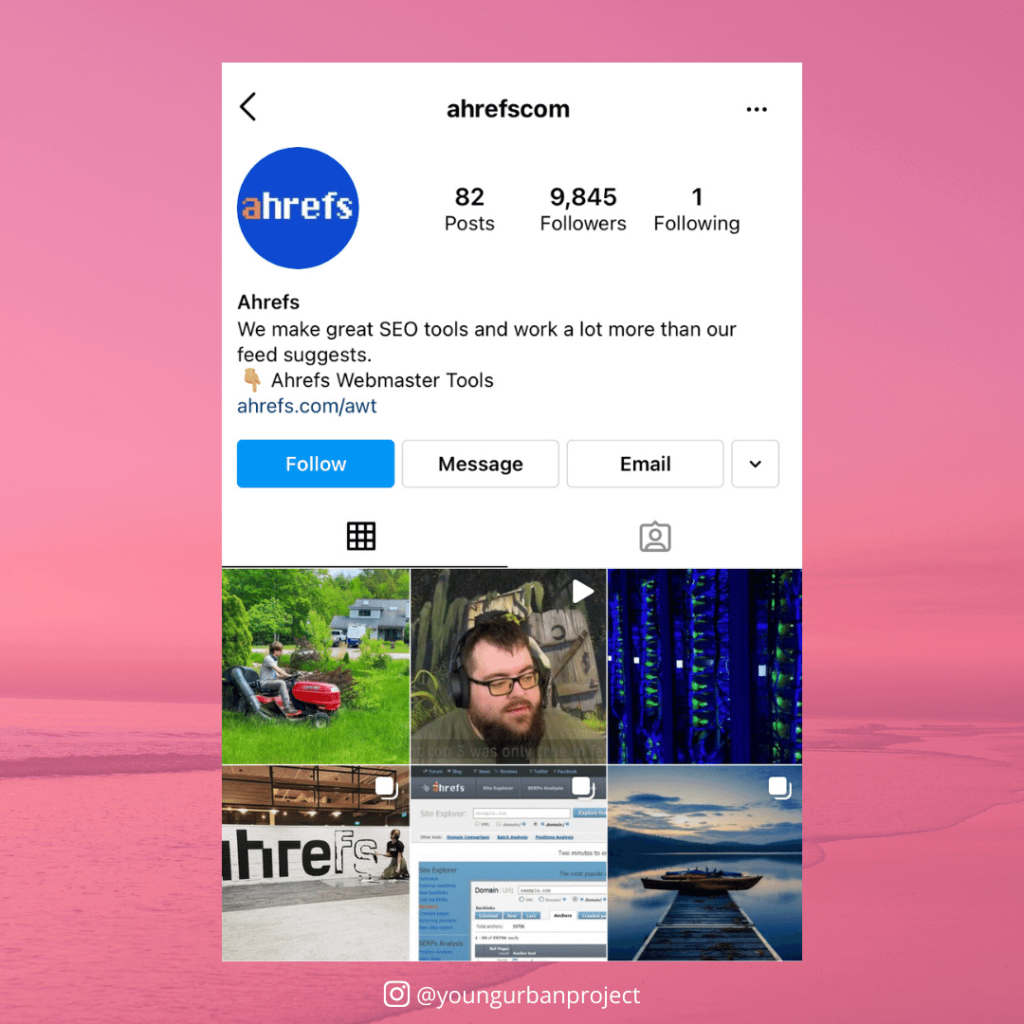 You can also use a service like Linktr.ee to add multiple CTAs to your Instagram bio.
Tip # 7 : Get Creative & Show Your Personality
While we know that the space is limited in drafting an Insta Bio but that shouldn't stop you from sprinkling a bit of your personality and add a little creativity to it.
A few ways to do so are:
Use Emojis to Space Out Your Text

A great tactic to space out the text in your Insta bio is by combining emojis with text. You can use them to break up any text-heavy sections in your bio.
Include a Branded Hashtag

Including your branded hashtag in your bio is also a great way to get your followers into the habit of using it.

Plus, users can now follow hashtags on Instagram, so if they follow your branded hashtag, it can help keep your brand top-of-mind.
Add Line Breaks to Your Bio

Adding line breaks to your Instagram bio is a great way to make the information more bite-sized and consumable.

The easiest way to add line breaks to your Instagram bio is to format it on the web version of the app. Once done, you'll have a bio that's easier to read
Conclusion
The trick is to make an Instagram Bio one that creates a great first impression on the visitor and convinces them that this is what they have been looking for. It gets them to scroll down and eventually engage with your account.
A quick summary of all that is needed to create a perfect Instagram Bio:
Explain who you are and what you do
Target your niche audience with specific keywords
Provide additional ways for your followers to get in touch
Show your personality
No matter which route you want to take for your Insta Bio it is worth investing some time and effort into it.
That can go a long way.