Effective Marketing is not just about promoting and selling products. It is also the measurement of the impact each activity brings. And it involves attributing results to the various channels along the user journey.
The specific discipline that deals with this kind of measurement is called Marketing Analytics.
And it is really critical for every business to make use of it.
So let's understand it better.
What is Marketing Analytics?
Marketing Analytics is the study of data that is gathered via various marketing activities so that insights can be drawn regarding user behaviour, geographic & demographic preferences, creative performance, and more.
The goal of marketing analytics is to use this data to fine-tune future marketing campaigns and get better ROI from them.
It helps you in finding out what is working for your business and what needs to be changed in future campaigns.
If you want to become a Digital Marketing Expert (and learn Marketing Analytics), join our Top-Rated 10-Week Advanced Digital Marketing Course. It's the most Practical, Mentor-led Digital Marketing Program in market where you will learn Live from some of the finest Digital Marketers out there. Click Here to Learn More.
Why is Marketing Analytics important?
In today's marketing landscape, the importance of data is more than ever. Consumer behavior has become complex and consumers have become increasingly selective while engaging with and buying from brands.
If a brand desires to capture the attention of its prospective consumers, it needs to rely on the use of data and analytics to design hyper-targeted marketing campaigns instead of using vague targeting.
Data allows marketers to find out the right communication, right platform, right audience, and the right time to do the outreach.
Does a Small business need Marketing Analytics?
Any business that is involved in marketing activities will benefit from the use of Marketing Analytics.
When you measure, track, and analyze the data collected through your marketing campaigns, you get actionable insights to evaluate if your campaigns are working well or not.
If you are a small business with a limited marketing budget, it becomes imperative to optimize the processes with Data & Marketing Analytics so that you can get maximum returns for your spending.
Best Marketing Analytics Tools
As a marketer, you have dozens of tools at your disposal – some are free and some are paid.
Google Analytics
Adobe Analytics
Heap Analytics
Cyfe Analytics
Kissmetrics
Funnel.io
Mixpanel
Oribi
Leadfeeder
Ruler Analytics
What metrics should you track with Marketing Analytics
If you are new to the world of Marketing Analytics, it might feel overwhelming. But remember, not all metrics are equal.
So to start off with, you can prioritize and measure the most important metrics that will help you make better business decisions.
1) Source of Web Traffic
It is important to know where people on your website are coming from. Are they coming from social media, are they coming by clicking links in emails, are they coming from backlinks, or are they directly typing in your website URL?
This helps you understand which sources are sending the most relevant traffic to your website. If you know a source is performing well, you can double down on it. And if some source isn't performing well, you can evaluate if you want to work on it or eliminate it from your strategy.
There are broadly 4 types of Traffic Sources: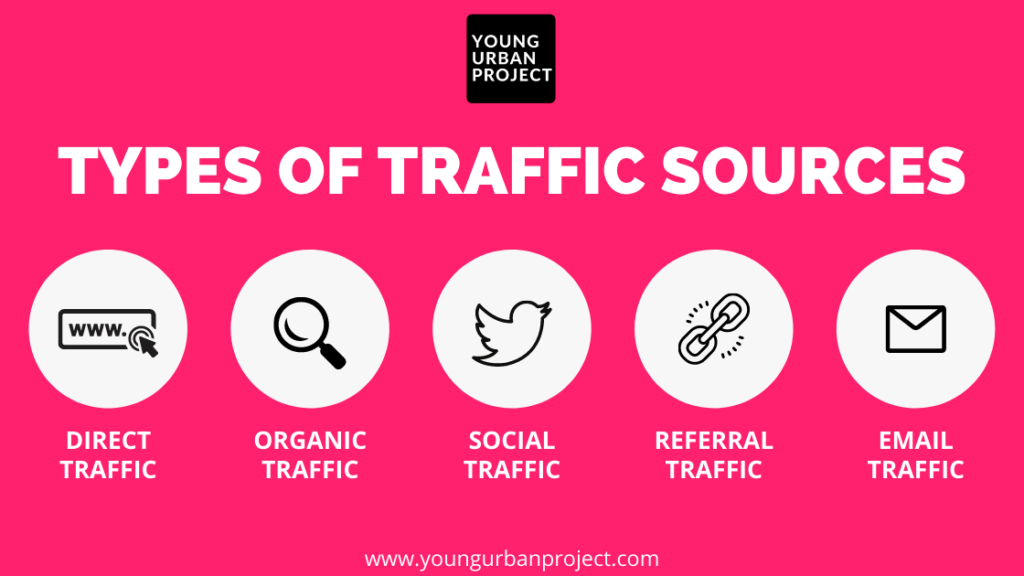 Direct Traffic – Users that directly type in your website URL in the search bar and reach your website
Organic Traffic – People who reach your website by clicking on your website in the Search Results of Google
Social Traffic – Users who come to your website by clicking on your social media posts or links
Referral Traffic – Users who come to your website by clicking on a link on some third-party website
Email Traffic – Users coming after clicking a link in email
2) No. of Pageviews
This metric is a measure of the number of times users open web pages on your website.
It shows what pages on your website are attracting users and how well are your pages helping users navigate to other pages.
If you find out the list of pages that are performing really well, you can place the most important Call-to-Actions and Important Links on those pages.
3) Bounce Rate
This metric is an indicator of how many people click away from your website after visiting just one webpage.
It shows if your website content is effective enough to get people to navigate to other parts of the website.
A high bounce rate means the website is unable to hook users on to it.
4) Avg Session Duration
This shows how much time users are spending on your website on average.
It is also an indicator of how good the user experience and content on your website are.
The higher the Session Duration, the more likely are the users to return to your website.
5) Exit Rate
This number shows the percentage of how many people exited from a specific page.
This could show which pages are causing users to lose interest in your website and you can fix them.
6) Conversion Rate
Tools like Google Analytics allow you to define goals on your website. These goals could be a product purchase or the generation of a lead.
Conversion rate is the percentage of people who complete a pre-defined goal versus the total number of people that visit your website/webpage.
Using Marketing Analytics, you can see which of your marketing activities are yielding results and which aren't.
Measuring Conversion Rate also helps you identify the touchpoints in your user journey from where the leads are leaking.
How to Use Marketing Analytics to Make Marketing More Effective
If you are convinced that your business needs to use marketing analytics, the next step is to know how to use it. Below are 3 main things you can do with Marketing Analytics.
1. Measure the performance of Marketing Campaigns
Marketing without measurement is as good as not being done.
The most important use of Marketing Analytics is to collect data from different channels and then use this data to derive actionable insights.
For example, you can use Google Analytics to measure the performance of campaigns leading people to your website.
You can use App Annie or Flurry to measure Mobile App user behavior.
You can use Sprout Social or Hubspot to measure your social media performance.
2. Understand User Behaviour for Various Marketing Activities
While collecting the data is the first step, the actual value for your business will get unlocked after you understand what that data means.
Marketing Analytics help you decode user behavior from various activities.
Here are a couple of examples:
Facebook Analytics is a tool you use when you run Ads on Meta Platforms (FB, Instagram, Messenger etc). These analytics show you which creatives are working well, what targeting is working the best, and what ads are getting more clicks than others.
Email Marketing Tools also provide analytics that shows you the delivery rate (how many emails sent by you actually got delivered), Open Rate, and Click Through Rate. Once a user clicks on a link inside the email, they come to your website. And from here, Google Analytics can track what they did henceforth.
3. Forecast Demand and Traffic to Prepare for it
An underrated way to use Marketing Analytics is to use data to predict a rise in demand, rise in traffic, and seasonality.
For example, your historical data analysis shows that your business might get a beyond-normal surge in traffic in the last 15 days of March.
Now if you are unprepared, you might not be able to scale your hosting and operations in order to handle the traffic and demand. And that might be a lost opportunity.
But if you can prepare in advance for that, you will be able to benefit from the increased demand.
Identify the Valuable Metrics and Start Today
Go ahead and identify the most important metrics that make sense for your business and start the process of setting up Marketing Analytics for your business today.
Don't get overwhelmed by too many variables to look at. Just take each step mentioned in this article – one at a time.
Keep measuring, rerouting, and experimenting with the data and reap the results of using Marketing Analytics.
If you want to become a Digital Marketing Expert (and learn Marketing Analytics), join our Top-Rated 10-Week Advanced Digital Marketing Course. It's the most Practical, Mentor-led Digital Marketing Program in market where you will learn Live from some of the finest Digital Marketers out there. Click Here to Learn More.